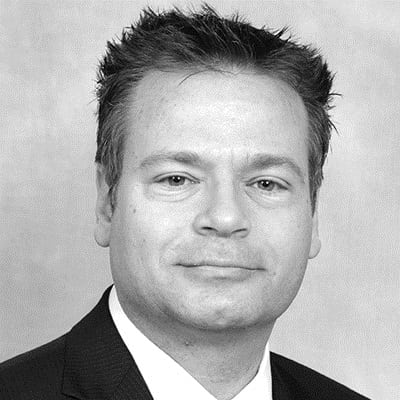 George Blasiak
Partner
Office: Albany
|
518-452-5600

A partner with the firm, George Blasiak has extensive experience representing Fortune 500 companies, major research universities and emerging businesses in the acquisition and enforcement of intellectual property rights. He is active in the firm's Computer Science and Electrical Engineering, Design, Medical Products, Trademark, International and University practice groups.
Mr. Blasiak's practice focuses on client counseling, preparing and prosecuting patent and trademark applications, patent portfolio management consultation, negotiating transactions involving intellectual property and on rendering legal opinions. His practice includes a variety of technical areas including computer hardware, software (including, e.g., cloud computing, virtualization, artificial intelligence (AI), machine learning, databases, information security, data center management), image processing systems, electronics, semiconductor fabrication (e.g. FinFET, bulk architectures, work function, doping, stressor architectures, and metrology), photonics (e.g. non-linear fiber optics, photonics signal processing, photonics integrated circuit fabrication, and lasers), communication networks (including Layer 2 and above protocols), microelectromechanical systems (MEMS), control systems, medical diagnostic systems and mechanical arts.
A registered patent attorney, Mr. Blasiak has extensive experience in patent and trademark portfolio development and management consultation, and in rendering IP related legal opinions including opinions respecting patent infringement, patent validity, patent enforceability and trademark availability. Mr. Blasiak has assessed numerous patent portfolios in support of litigation and licensing of intellectual property assets. He has conducted numerous right-to-use analyses, and has extensive experience in advising clients respecting proposed new product designs in view of competitor patent positions.
George was previously a partner with the law firm of Marjama Muldoon Blasiak & Sullivan LLP in Syracuse, New York. Before entering private practice, he worked as a Patent Attorney for Technology Transfer Services at the State University of New York.
Presenter, New York and Silicon Europe Partnership Forum, AIA and Alice: An International Perspective, November 2016
Presenter, Rochester IEEE Annual Meeting, Post Grant Validity Challenges after Alice, April 2016
SUNY Buffalo, J.D.
University of Rochester, Electrical Engineering
Central New York Patent Law Association, Board Member
Institute of Electrical and Electronics Engineers (IEEE), Chapter Organizer, Solid-State Circuits Society
Intellectual Property Owners Association (IPO), International Patent Law Committee
New York State Bar
South Carolina State Bar
U.S. Patent and Trademark Office